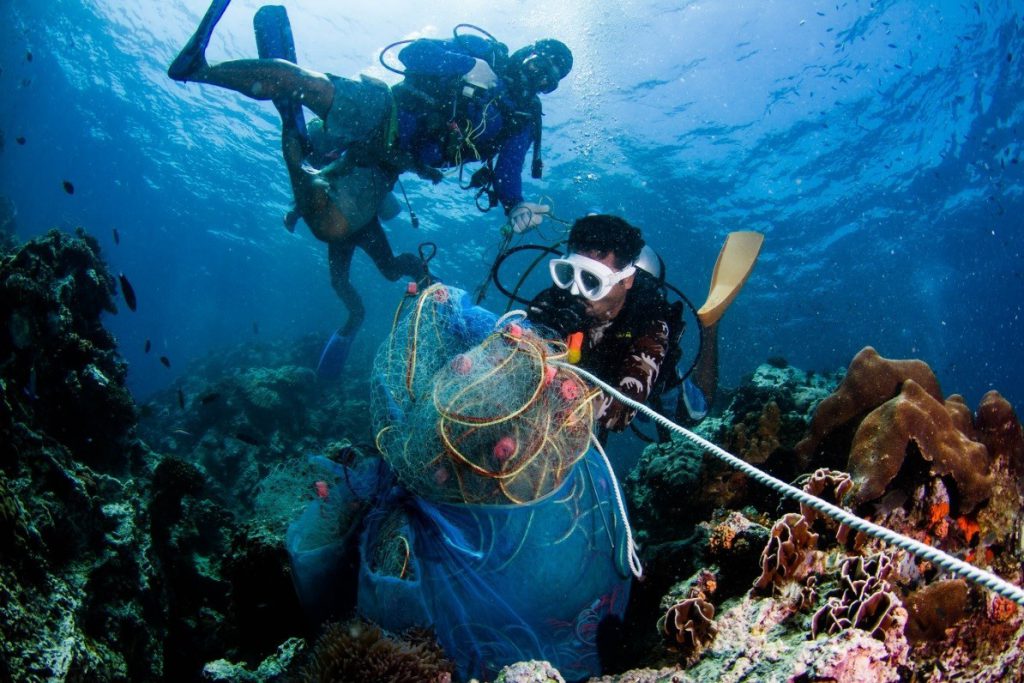 21Marine debris is a man-made product that has been dropped into the sea, or any waste that has been processed into the sea by intentional abandonment or accidental abandonment to marine and coastal environments including fishing gear and materials arising from sea transport activities.
Marine debris are from two major sources:
From activities on shore, such as carrying by river, beach tourism, coastal industrial plants, waste disposed from households and coastal tourism; and
From activities at sea such as vessel transportation, tourist boats, coastal fishing and platforms at sea.
Marine debris may be found near their sources or be carried over long distances by currents and winds. So, marine debris are found in marine areas across the world that is not only in the coastal areas but also be found in the places far from their origins, such as on islands in the middle of the oceans and in polar regions. Marine debris can be found floating on the surface of the water, in the water column at various depths and sink to the sea floor. Global marine debris are estimated to 1,800 tons/day, 8 million pieces/day, or 13,000 pieces/km2, that are three times of the harvesting fish (UNEP, 2008).
For the situation of marine debris in Thailand, Pollution Control Department reported that, in 2014, the amount of waste in Thailand was up to 60,273 tons/day, of which only 19 percent were recycled, and only 27 percent were disposed properly. It is estimated that thousands tons of these waste may finally end up at sea. According to the data of Department of Marine and Coastal Resources, collected by using the modified form from International Coastal Clean Up's collecting form, during 2009-2015, in 18 Provinces including Trat, Rayong, Chanthaburi, Chonburi, Phetchaburi, Prachuap Khiri Khan, Chumphon, Surat Thani, Nakhon Si Thammarat, Songkhla, Phang Nga, Phuket, Krabi, Trang, Satun, Pattani, Narathiwat and Ranong, 363,228 marine debris found that most of them were plastic bags, cork caps, ropes, plastic straws, paper, cigarettes, plastic crockery, buoys, beverage bottles, clothing and etc. 46 percent of them originated from coastal activities and recreational activities.
There are several impacts of marine debris including:
Ecological Impact: Change the ecosystem that caused by the distribution of alien species carried out by the floating garbage.
Impact on the economy: marine debris may damage boats and fishing gear and also negatively affects abundance of marine fish and fisheries.
Impact on tourism: marine debris ruin beautiful scenery of place that decreased value of place and tourist attractions
Environmental and Health Effects: marine debris affects health of marine animals and humans that are injured by hitting or getting toxic from them
Effects on rare sea creatures: it have been found that 3 percent of the rare marine live mortality were caused by eating marine debris.
References
http://marinegiscenter.dmcr.go.th/kiosk/km_inner.php
บทความล่าสุด